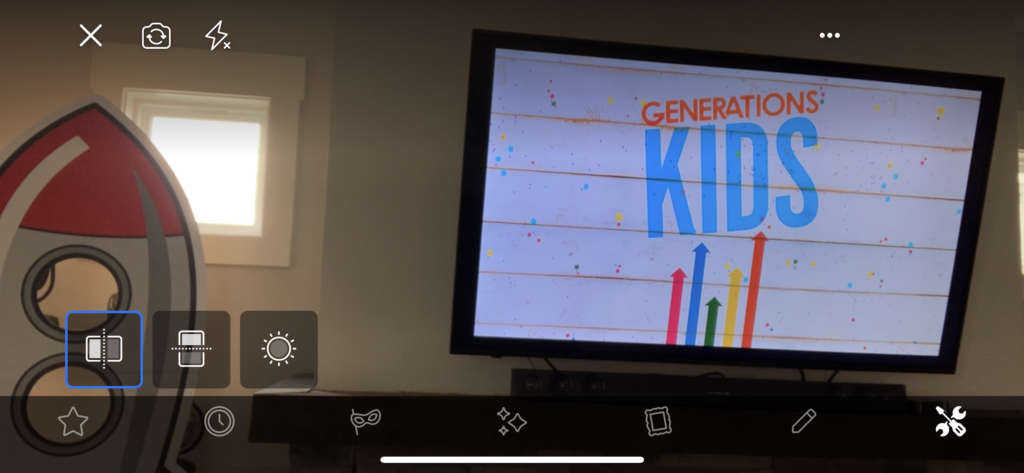 It's been great seeing everyone in the Kidmin community produce content and digital experiences for families during all of the quarantines lately. If you are still trying to get up to speed or are reevaluating your approach hopefully this post will help you.
Our first step was to set up a private Facebook group for our families. We decided to have a private group so that our families could post without worrying about who else was in the group. Making a separate public post to your personal page and sharing it to your church's page is a great way to offer something to the general public.
LIGHTS – CAMERA – ACTION!
Here is a list of equipment and software I used to broadcast a live video to FB:
MacBook Pro
ProPresenter
iPhone (rear-facing camera)
Tripod
iPhone holder for tripod
Apple TV
TV
Soundbar (optional)
Two stools (optional)
Cardboard props (optional)
Here is a look at my set up –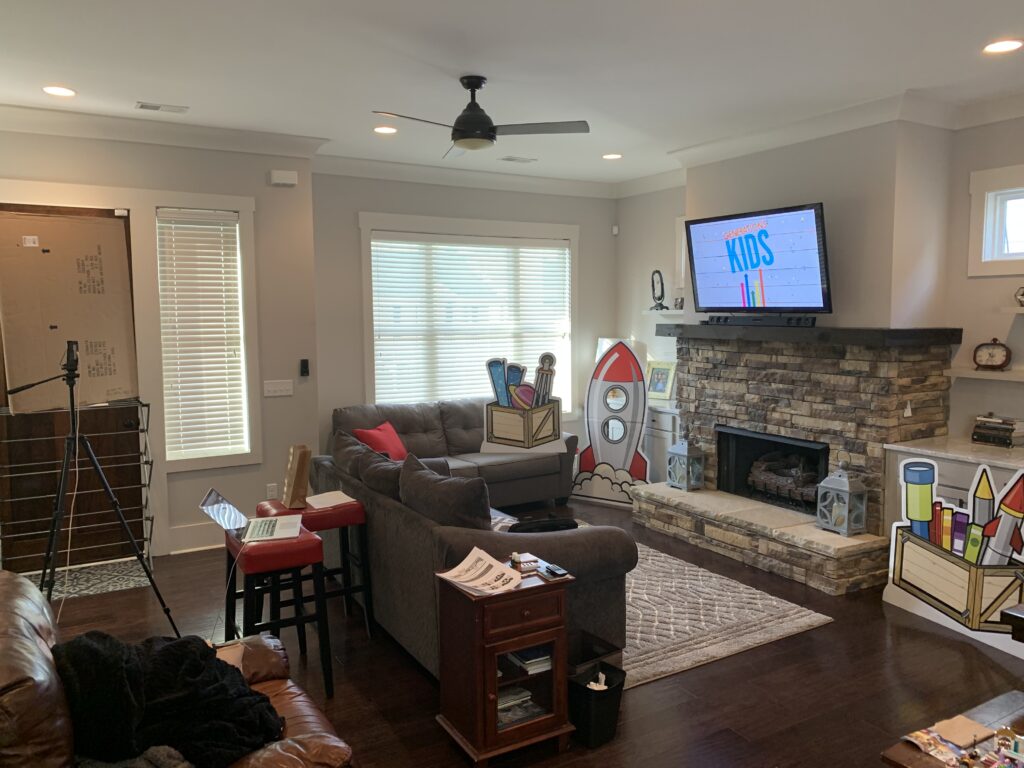 It's important to set up your shot by opening FB and starting a live video to see how it will look to your audience. We use the rear-facing camera for better quality video and so I don't get distracted looking at the screen. If you are shooting solo then you will need to use the front-facing camera and select the option to flip the picture when you are setting up your live video. By flipping the picture all of your graphics and video in the background will look correct for you viewers. Just click the magic wand in the lower right-hand corner and then select the tools icon to find the options to change the view.
Tamara and I set up a private group that only we are in for practicing and testing our live broadcast. You can also broadcast a live video to your profile and make it only visible to yourself. All of these options are very useful for seeing what your audience will see.
We like to have natural light so we try and shoot during the day time. It is possible to have too much so you may notice the large piece of cardboard on the clothes drying rack blocking the window on the front door.
Most people recommend using mics and mixers for audio but we chose not to. We felt comfortable with the audio we were getting and decided to just go with what my phone was picking up. We did make sure to put my phone on "Do not disturb". Through testing, we discovered we needed to turn off the AC so we didn't get any background noise (it was surprisingly loud on camera).
Here is a shot of what our viewers see from this setup. (We did move some of the props around)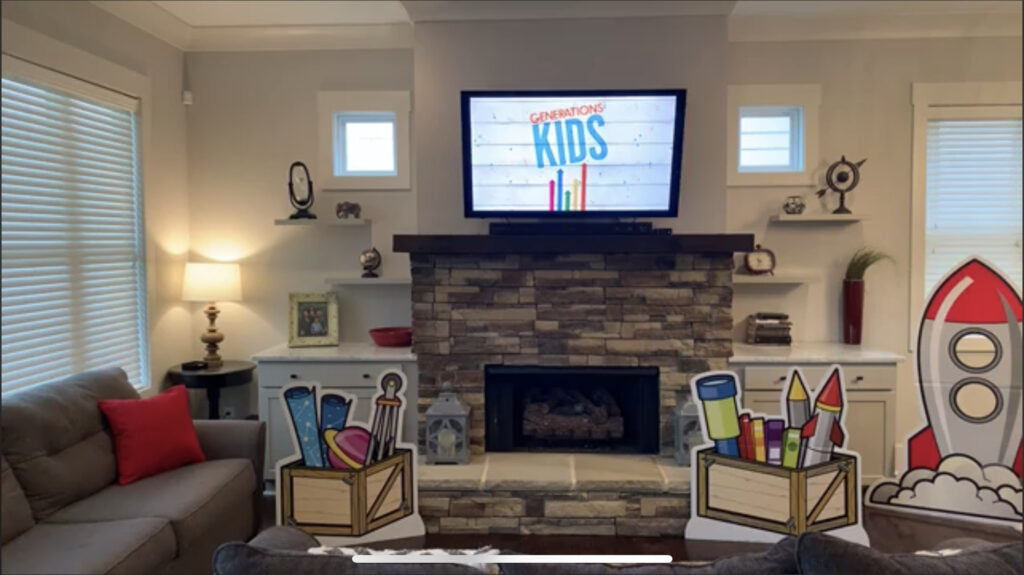 Here are the steps for our program –
We launch FB, add a description, and get ready to go live.
Once we launch our live video we display a five-minute countdown.
When the countdown hits zero I step into the frame from the right and greet everyone.
Tamara and the kids step into the background and do motions to a fun song. (Make sure you have permission to play the song)
After the song I step back into the frame for a quick object lesson.
We play a game as a family in the background
I step back into frame to wrap things up and pray for our viewers.
Tamara ends the video on a cue.
During the program, I monitor the comments section while Tamara and the kids are on and she monitors while I'm on. I try and shout out to anyone watching. We keep our broadcast to around 20 minutes or less for our weekend show and around 10 minutes for our daily "Move time" when we teach the motions to one of our fun songs.
I'm an Apple user but these days you can display to almost any tv from any device. If you are unable to display your graphics take the approach that most of the late-night shows have, draw them on paper or have your kids draw your graphics.
Well, that's what I do and how I do it. I want to encourage you that if all of these details still seem overwhelming to you there is more than one way to accomplish the goal of reaching your families online. Thankfully social media is very forgiving when it comes to camera angles, few people get it right. What is important is engagement. Ask your audience questions, give them a challenge and ask them to post their response, and acknowledge your viewers. Remember to have fun and enjoy the adventure!